DISCOVER OUR WAVES
the beach break : it's a long left that peels along a rivermouth sandbank. Generally the wave is gentle and suited for longboarders and beginners. But when huge winter swells roll in the wave becomes interesting for shortboarders.

Bourail Pass
Gouaro : a 60 meters ride, less than ten minutes from the Surf Camp, Gouaro is a very consistent and fun right, it can be surfed with swells from the South-east or the West, and up to 4 meters. A dugong and dolphins often come by the break.
Snorky : a 100 meters ride, 10 minutes from the Surf Camp, very fun with barrel sections, but only works South to South-west swells in the 2.5 to 5 meters range. It's the only option when all other breaks are closing out. A good secondary spot, only downer is that the water is silty.

Green Island Left : the wave can be surfed up to 3 meters with South to South-west swell directions. Tradewinds are offshore so the wave can be surfed up to 15 knots. It's an 80 meters ride which can offer both hollow barrels and rippable walls, depending on the tides. On epic days it connects three sections, and offers memorable rides.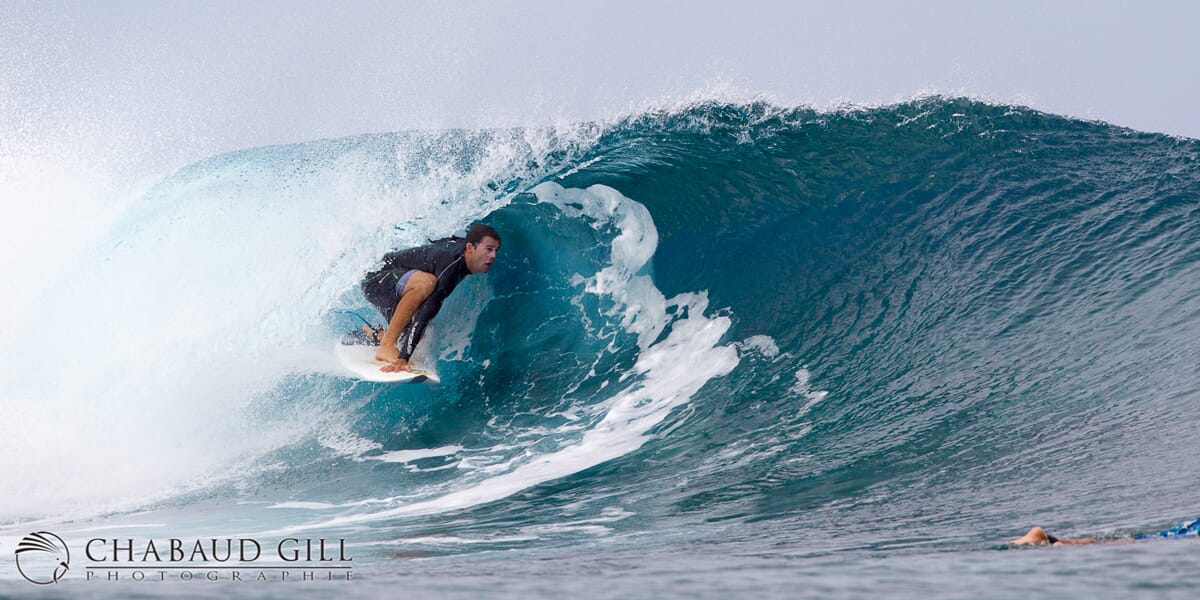 Secret :The best of them all!! Manu's favourite! It's a radical barelling wave that can run for a 100 meters and is just 15 minutes away. The wave works on South-east to South-west swells, and depending on tides can hold up to 3 meters. The trade winds are off-shore so the wave can be surfed up to 12 knots usually. The wave likes a rising tide, but always delivers some barrels. Surfing at Secrets is an unforgettable experience: the clarity of the water and the colour of the coral beneath your feet are intense. Turtles and rays often show up at the break, as well as dugongs and dolphins.
The Snorers :10 minutes from the Surf Camp, is a fun wave, and a great option when all other breaks are closing out with South-west swells anywhere between 2.5 to 5 meters. A good secondary spot, only downer is that the water is silty.
There are other breaks, both left and rights, on the barrier reef. These are actually false passes, that can be surfed with hight tides when the swell is less than 1.5 meters. A good option for intermediate surfers and beginners who want to surf the reef in relative safety.

What Should You Bring ?
Two boards (at least) : your every day board is usually good enough for surf up to 1.5 meters. Take another board for 2 meters plus waves, round tails go well here.
A springsuit from May to September, a rash or polar vest is enough for the rest of the year.
Reef boots are also recommended for those who don't want to bring some coral cuts back home, and they are handy to walk around the islands.
Don't forget to take a few tubs of sunscreen and sunblock, a hat and a couple pairs of good sunglasses. We highly recommend you bring your snorkelling gear to enjoy the beauty of the coral reef.

COURTESY RULES :Surfers arriving on a break must say hello to those who were there before them, eventually have a little talk about where they are from, a casual little introduction, etc… Never paddle past the surfers who were there before you, take your first waves at the bottom of the spot, then paddle up, respecting the wait in line rule. Never take off or even paddle on somebody's wave, we call that cockroaching, and cockroaches are not popular. Always paddle out wide so you don't find yourself in other surfers' way, this avoids a lot of accidents. Last but not least, if you do have to let go of your board, make sure you aren't going to hurt someone.
Notice :there are local surfers on these breaks, especially on week ends. The atmosphere in the water is good, because the locals are willing to share their world class breaks with visitors who say hello and behave well on the breaks.